Summing up my recent travel up north on this blog because I can't help but rave about this trip. Maybe if I have told about my experience for about 100 times more, I'll stop. Teehee. If you want to know every detail of this trip, you may visit my other blog for the series.
February 18
Arrived 26 minutes earlier than scheduled at Tuguegarao, immediately hopped on a tricycle for a quick ride to the van terminal to meet with other travelers, Albert and Rayn. Waited for sometime for the van bound to Claveria. Drive was approximately 4 hours with frequent picking up and dropping off passengers. It started raining halfway the drive and it made me sad. Surely, lampitaws bound to Calayan Island won't dare to sail the next day.
It was dark and wet when we reached Claveria. The van driver drove us around the ports (Lagoon and Fishlanding) and asked if there would be lampitaw scheduled to leave the next morning. But no. We already knew. It was like stabbing my heart multiple times. Then the driver dropped us off at El Dia Beach Resort which was recommended by the person who he was speaking with on the phone.
The guy who was in charged of reservations told us that they only have 1 room left and fully booked the next day. So no thanks. Considering that we may be stranded for few more days before going to Calayan, the rate given was also not a good option. Good thing he recommended for us to try the resort beside theirs, Nikita Beach House and Resort. So off we walked out their property and looked around. It was raining and again, dark. We missed the entrance because we thought it was still part of El Dia. Sweet that someone helped us locate the place.
It took sometime before the caretaker, Ate Eden opened the gate. Maybe because it was very unusual to have transients at that hour but still early around 8pm. Learned the next day that most of the businesses and other establishments close as early as 6pm. Meh.
We were given time to settle and served with the ordered Miki with eggs. The meal was warm (great for those who just got wet from the rain) but too buttery for my taste. Or was it really butter flavor? I went to bed early for some action the next day.
February 19
I woke up like nearly 5 in the morning. I couldn't sleep anymore because it was too damn cold. I went out to check the weather in our mini porch and boy, it was still raining. So okay, no Calayan for that day. Our group decided to leave for breakfast around 6 am. Ate Eden called her contact tricycle to bring us to an eatery. We just walked back to our hostel since it can be done for less than 10 – 15 minutes.
Since we can't be just stranded in our hostel, we agreed to go around Claveria. Albert contacted a tricycle driver another travel blogger recommended and poof; we booked him and he agreed to pick us up at 9 – 9:30 am. We still had time to prep and chikka downstairs where we met Kuya Sabino. He was the owner of the lampitaw Ms. Tessie (from Calayan) referred us to. He was also staying at Nikita's which was great because we were sure we won't be left behind!
Kuya Walter (tour guide/tricycle driver) arrived on time. He suggested for us to see Portabaga Falls which was located at Sta. Praxedes, a town next to Claveria and Pagudpud in Ilocos Norte. The falls and resort was managed by the local government which I think a great idea. There are hotel rooms which can be booked but since it was non peak season, there was no one but us and the staff.
Going back to Claveria, I volunteered to back ride. It was chilly and unluckily, my eyes with contact lenses easily dried out. So when I constantly blinked, my right contact lens popped out! I was able to save it but I didn't bring the solution and its container so kept it in my bag and cried inside me.
So I went around Taggat Lagoon with only an eye with clear vision. Left, I had to shoot with my left eye. Grateful enough, I was able to see things clearly even it left me dizzy after. Photos were picture perfect despite the weather. This was where fishermen drop off their catch for the day and park their boats. Although, it seemed like every boat was parked  that day because of the bad weather.
We headed back to the town to eat lunch. Kuya Walter pulled over an eatery in a small house. It was homey – you could even see their cabinets with old clothes hanging! Interesting. There were two cats roaming around, jumping on tables and chairs. Heck, it was the most legit cat cafe ever.
After lunch, I asked them if we can visit an optical shop because for one reason, I really needed to buy a pair. Damn, it was expensive. I was charged P550/pair and on a lighter note, the quality was okay and thicker than my original pair.
Then off we went to Sentinela Cove. I liked Sentinela more than Taggat because there were not much boats around. There was peace and rain again. I found my place at the far right end of the cove. It was raining cats and dogs so I decided to stay for a while besides it was the last stop for the day.
Arrived back to the Centro. Then went to our hostel's beachfront area to do some reflection because I never had my me time with the new travel buds. Found myself back to the hostel and left with Ate Eden and Rayn for some grocery shopping.
We went out for dinner nearly 7pm and boy, it was difficult to find a place to eat. So we went back to the same eatery we ate breakfast at. I bought fried chicken in a nearby store (fried chicken is somewhat popular within the area) and ordered a vegetable viand and rice at the eatery.
It wasn't raining so hard anymore then. So we had hoped for us to cross the ocean.
February 20
But no. It wasn't time yet. I was up again early in the morning. This was rural living to the fullest.
Our Plan B was Pagudpud. So off we went to Pagudpud which was an hour away from Claveria. We hopped on a van and it was the sunniest day I had seen Claveria! Sunglasses and scarf on. I didn't put sunscreen for I don't know why.
When we reached Pagudpud, we immediately got a tricycle to tour us. I forgot his name, I wasn't able to get his contact details. Boo me. We negotiated the tour price a bit since we skipped the lighthouse and I guess few more places.
Our first destination was the infamous windmills. Since we came from Pagudpud, we were charged a toll fee (as what it was itemized in the receipt) crossing the town of Bangui. The place Kuya pulled over wasn't the area I went to before, it was almost the end of the Bangui windmill. Windmills had grown in numbers like mushroom since the first time I went there in 2013.
After being toasted under the sun, we went to Kabigan Falls. And naturally (haha), I was left behind. My thighs were almost giving up so I couldn't force it to walk faster. When I decided to walk back first… I still came last again! We were just in time for lunch when we got back from the trek. Inihaw na pork, some vegetable viand and rice. Solve.
After lunch, we went to Mairaira Cove where Hannah's and a new dinosaur-animaly resort was located. Same area where you would find Bantay Abot Cave and Dos Hermanos islands. Kuya was very kind to drive us until the end of the cove to see Dos Hermanos. I opted not to walk farther because it was noon-sun-is-serious-scorching.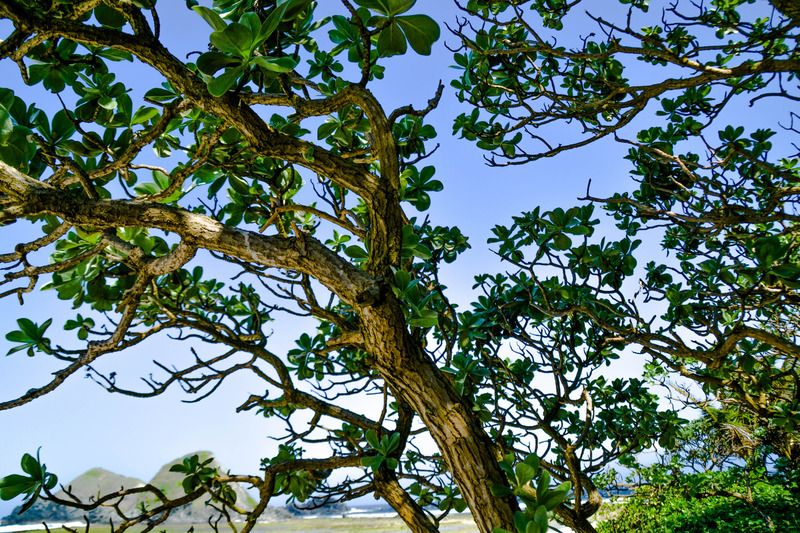 Kuya drove us to Patapat Viaduct, our last destination. Took few shots and he dropped us off some place where there was a mini falls and souvenir shop. He waited for us till we boarded a bus to Claveria. The bus ride was short and cheap at P30/head.
When we got back to our hostel, it was still brownout so I walked to the beachfront area and spoke with Percy through Viber Video. For dinner, Albert told us he had an office mate who happened to be from Claveria. This friend of his invited us to dinner at their place but the catch? She was not even in Claveria; she was in Manila!!! But still, we went to their place which was about 3 – 4 streets away from our hostel and FREE DINNER IT WAS. Thank God for connections! Best meal I ever had for the past few days!
While walking back to the hostel, I noticed the sky. It was clear, there were stars. Apart from it was another hopeful moment for me that hey, we can finally leave mainland for Calayan… but more like a moment of appreciation. THE SKY WAS DAMN BEAUTIFUL AND PERFECT.
February 21
I woke up 4ish in the morning again. I was preparing for a possible good news. BUT NOT AGAIN. Coast guard was very strict, huh? The weather was actually perfect and inviting yet coast guard said no. So no. ):
I stupidly booked a hotel in Tuguegarao because I thought Albert and Rayn was packing their backpacks already. I was wrong though. They still wanted to give it a shot on a Sunday. Besides, I really still had a day to bum in Claveria. I should hadn't booked that hotel. It was non refundable same day booking from Agoda so I just cried inside me again.
We had late lunch at Manukan and did some grocery shopping again. I spent the afternoon speaking with a friend on the phone and cooking tuna spaghetti which tasted a kiddie pasta (but still edible).
XXX
That ends my Claveria journey.